How To Decorate Room With Simple Things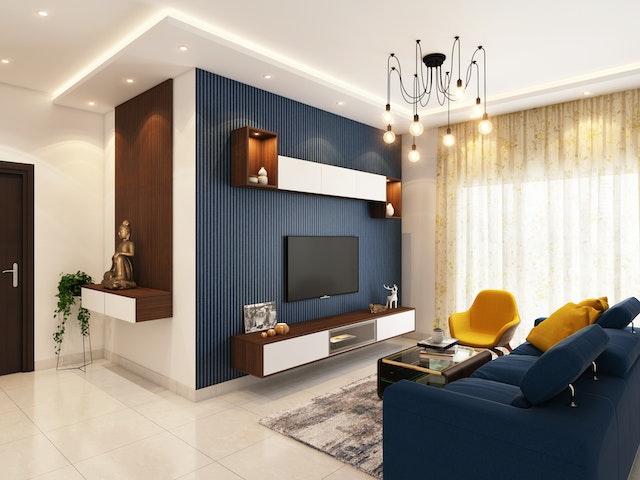 Create Simple Gallery Wall
To create a simple gallery wall, you can fill a wall with stylish decor that does not have to be complicated. Point simple wall art on canvases, like stripes or dots, and then hang them to create a chic gallery wall.
Rainbow Mobile
Brighten any room, like your kitchen or den, with a colorful mobile made of recycled materials. Hang your mobile near the window for maximum light reflection.
Washi Tape Wall
Try creating easy DIY room decor with washi tape. Line stripes on a wall for a textured look—ideal for a bedroom or playroom.
Teacup Candles
diy room decor teacup candles width=Melt wax into vintage teacups to create unique candles for your living room, home office or bedroom. Choose matching tea cups or mix up the designs depending on the vibe you're going for.
Hanging Flower Vases
Three hanging glasses with fresh flowers
Add character to your room by hanging your vases of flowers. You can hang your little homemade nursery next to a window and watch your plant grow roots. You don't need any support like a table, a piece of furniture, or a window sill to put your flower vase on.
DIY Macrame Decor
Craftswoman weving ropes, creating a macrame banner. from behind.
A macrame wall hanging is an easy DIY project that will add a handmade touch to any room in your home. There are so many free tutorials online that will help you create a macrame with a lot of interesting patterns, such as spirals and triangles.
Photo Clipboards
Create a wall of your favorite high-quality prints, magazine covers and newspaper clippings. Embellish blank clipboards with metallic paint and hang them evenly on the wall before securing your photos and papers.
Custom Designed Wallpaper
Spoonflower custom designed wallpaper
Wallpaper can do wonders tying your whole room together. If you're looking to bring some unique patterns and colors to your walls, adding custom-designed wallpaper to any room can accentuate your home decor choices and overall design style!
From modern to coastal designs, let your personal style shine by customizing wallpaper with designs from Spoonflower independent artists. With Spoonflower, pre-pasted wallpaper is the perfect DIY refresh for any room. It's long-lasting, but fully removable (and recyclable), making it great for homes, rental spaces, and accent walls.
Glass Hanging Candle Holders
DIY candles in glass jars hanging on linen jute.
Looking for simple DIY room decor ideas? Create beautiful glass hanging candle holders from recycled bottles or mason jars. One can never have too many hanging mason jar lights!
Paper Crane Wall Art
White bedroom with grey details and origami wall decor
Make a bold visual statement with DIY origami cranes. For maximum effect, place the cranes on an empty wall with little furniture. Make a handcrafted origami paper cranes and pin them to the wall.
Statement Wall Hanging
diy room decor statement wall hanging
Begin this DIY room decor idea with a wooden dowel. Fasten yarn of varying colors in a symmetrical arrangement. Hang this statement piece in your living room, bedroom or home office.
Pom Pom Garland
diy room decor pom pom garland
Spruce up your space with a garland that can be hung from a mantle, bookshelf, or blank wall. Alternate the colors of pom poms for extra personality.
Wooden Crate Shelf
Cozy brown and white bedroom with king-size bed and DIY accessories
Looking for a unique rustic shelf that doesn't break the bank? This DIY wooden crate shelf adds character and is totally customizable depending on the colour of stain and number of crates you choose! Perfect for a nursery, bedroom, office or bathroom!
Chalkboard Wall
Spacious room with desk, chair and decorative chalkboard wall
Liven any room with a DIY chalkboard wall. Create a floral pattern using colorful chalk and create a beautiful range of pastels.
Plant Shelves
DIY plant shelves filled with cactus and succulents
Give your plants a place among your canvas prints with DIY plant shelves. A wall full of plants can instantly transform any room and bring the touch of green indoors!
Pressed Plant Frames
Woman making decoration with pressed flowers and leaves. Framing dried plants. Top view.
Press and preserve flowers—or weeds!—to bring the beauty of the garden indoors to enjoy for years to come.
Canvas Prints
displaying canvas prints on shelves
Whether you choose to display one canvas print on a small table or arrange several canvas prints across a mantel or the top of a bookshelf, your personalized works of art will create a warm and welcoming environment in any room.
Vinyl Record Wall
Black retro typewriter on a unique wooden desk, a mid-century modern chair and a renovated bookcase in a hipster home office interior. Real photo.
Hang vinyl records to create unique room decor. Whether your family plays instruments or loves karaoke, this music-themed decor will brighten the spirits of anyone who steps in the room.
String Art
The picture in the style of string art. String Art. Paws
Fashion string art out of nails, a wood board and your choice of string. Choose a shape that speaks to you, whether that be a heart, animal or inspirational words. Construct the piece with the same string or choose an array of colors.
Seashell Mobile
Beautiful seashell mobile in a window
Make a seashell mobile using seashells that you collect at the beach and turn your fun vacation treasures into coastal home decor. This professional-looking DIY room decor hangs well in a living room, bedroom or front entryway.
Geometric Pattern
using tape as decoration
Create an accent wall in your bedroom or playroom. Design a geometric pattern using tape to create your geometric masterpiece.
Paper Stars
Little girl drawing on a blackboard in her room with wooden boxes, teddy bears and wall stickers
Personalize your DIY room decorations by starting with a blank canvas. Stick paper starts to wall and try matching the colors with other accents in the room.
DIY Ottoman
Living rooms and bedrooms often need extra seating. Fashion a decorative ottoman out of fabric and a recycled footstool.
Paint Chip Art
paint chip wall art
Gather paint chip samples of varying colors to make this decorative DIY rainbow wall. Incorporate tones that contrast your wall colors.
Mini Cork Boards
Perfect for hanging up reminder notes and to-do lists, cut cork boards in circles and hang them above your desk or in the kitchen. Layer the cork boards with colors that complement the other decor in your room.
DIY Tablescapes
custom table runners and cloth napkins for a DIY tablescape
Refresh your dining room with DIY tablescapes that'll make loved ones feel special when they sit down to dine with you. Linens play a huge role in the look, feel, and functionality of your table and dining experience. Make a big impact and express your own personal style with custom-designed table runners and cloth napkins.
Whether you mix and match your linens by contrasting colors and patterns for a bold, playful look or opt for complementary hues to create a more elegant theme, your options are endless when you start customizing with new designs by Spoonflower independent artists. Table runners and napkins are even hand sewn in house before they're shipped!
Driftwood Wall Hanging
Do you enjoy collecting driftwood at the beach? Arrange your favorite pieces into art using string, paint and feathers.
Inspirational Phrase Art
Lift the spirits of your family and friends with inspirational wall art that features encouraging phrases and quotes.
Paper Banner
an empty children's playroom with ent and toy railway
Need some quick festive decor for your kid's bedroom? Try this paper banner that's so easy to DIY that even the kids can help! You can use this adorable banner to brighten up the kids' playroom or even your room as well.
Painted Pots
Cactus pot. Concrete pot. Two empty cute geometric concrete planters with succulent plants on white wooden shelf isolated on white wall background.
Make your own patterned pots out with acrylic paint. Try geometric patterns and polka dots for your designs. Place plants inside the pots for decor that can be placed on a window sill, desk and side table.
Gallery Wall
gallery family photo wall art
Compose a wall gallery that's made entirely of personalized wall art. Whether you'd like a canvas print with or without a frame, you can create a stunning piece of decor that's sure to impress.
Dried Flower Hanger
Learn how to make a charming dried flower wall hanging to dry flowers and herbs in your home.
Farmhouse Lamp
For a rustic or farmhouse look, paint the base of a wooden lamp with white or cream tones. Allow some of the wood to peek through and match the lampshade to the wood's tone.
Crystal Suncatchers
Make rainbows with these beautiful crystal suncatchers! Imagine sitting back, relaxing with your favorite photo mug and surrounding yourself with the gorgeous delights of beading color.
Photo Lamp
Construct a lampshade that's filled with photos of the people you love the most. Choose images with special meaning, like ones from vacations, weddings or birthdays.
Blanket Ladder
photo blanket and photo pillows
Because your room isn't cozy unless it has fuzzy fleece blankets. Put your favorite blankets on display with an easy DIY blanket ladder. With a vertical blanket ladder, you'll satisfy organizational needs and also create a lovely display for your room.
String Light Photo Wall
If you forego frames for all of your favorite photos, using string lights to hang prints is a great way to personalize your bedroom space.
DIY Terrarium
If you want to try your hand at growing plants indoors but don't feel your thumb is green enough, try a terrarium. Terrariums not only allow you to control the growing environment, but you can customize them with fun figurines and decorative landscaping.
Weaved Decor
Create this weaved wall piece in a matter of minutes. All you need is a woven rug, yarn or twine and beads. Hang it in your living room or guest bedroom for modern, sleek decor.
Painted Leaves
Girl paints patterns leaf. Gouache, brush and various autumn leaves on a wooden table. Children's art project. Colorful Hand-painted on dry autumn leaves
This DIY room decor project is best to complete in the fall or winter decor, when there are plenty of leaves on the ground. Use real leaves and paint some festive patterns, you can create this earthy art piece.
Paper Lantern String Lights
Learn how to make your own paper lantern string lights that you can hang in your room, on your porch, or anywhere you'd like to enjoy a little twinkle.
Patterned Dresser
Refresh a dresser with pastel paints or wallpaper. Choose easy patterns that can be made in your favorite color, whether that's blue, purple or yellow.
Triangle Shelves
If you appreciate wooden decor and want a simple way to bring it into your room, consider wooden triangle shelves. Craft triangle shelves for room decor that will pop. Place several shelves on the same wall and add favorite items like succulents and photos.
Geometric Lamp
Add flair to your bedroom or office decor with geometric lamps. Paint them metallic or a bright color for extra personality.
Baby Mobile
Sew together a DIY baby mobile as a cute and timeless addition to your nursery. Choose relaxing colors like pastels for a design that will soothe your little one.
Pom Pom Pillows
Looking for fun, festive DIY room decor? Sew your own pillows made of colorful fabrics accented with pom poms. Style them on your bed, couch or reading chair.
Decorative Wall Kite
wall kite decor
How about decorating your kid's room walls with beautiful kites? It is fun, beautiful and original, and of course and who could resist the temptation of having pale pink or pale blue decoration on the wall?
DIY Painting
diy painting
Few things are more pleasing than colorful swirls of paint oozing over a canvas and creating alluring marble art. Luckily, this form of decor isn't difficult to create on your own and can be made after just one trip to your local craft store.
Hat Wall
wall with hats
Combine style and function by transforming that empty space above the bed into chic storage. Use nails or removable hooks to present your favorite hats, alternating the heights to give the display a designer look.
Uplifting Art
framed canvas prints eat well travel often
This DIY is as easy as it gets. Find a quote you love, type it up in a fun font, print it off, and hang it as wall art for daily inspiration. Stay motivated by changing up the quote monthly or even weekly.
DIY Flower Wall
DIY Flower Wall
How pretty to have a wall of fresh flowers in your home? It's not very realistic or long-lasting but its swoon-worthy. It's also very easy to recreate it with fake flowers!
Neutral-Colored Gallery Wall
black and white gallery wall
Black and white photos are an excellent choice for a gallery wall because they are cohesive and look great in a grouping.
Abstract Canvas
diy room decor abstract canvas
Your DIY room decorations don't have to be complicated. Try creating abstract art by painting on a blank canvas. Incorporate a range of colors but be sure to include an accent tone like white, black or gold.
String Light Headboard
string light headboard
Mount a string of lights to the wall above your bed as a visual (and bright!) alternative to a headboard.
DIY Nature Wall Art
Stylish and scandinavian interior of home office with mock up poster frame. Botany and forest concept of home decor.
If you're a nature lover then this piece of wall art is perfect for your home. DIY wall art is one of the most fun and inexpensive ways to decorate your home.
Painted Scenery Wall
Repairs in room with painting of mountains on wall. 3D illustration.
Make your bedroom or nursery feel like a forest or mountain range. Paint the walls with a scene in mind. Let it be as intricate or as simple as you wish.
Creative Wall Pattern
rain drop pattern in bedroom
Have a blank wall that needs a little personality? Use paint or stickers to create a pattern of stripes, zig zags, or geometric shapes.
Polka Dots
polka dot nursery room
Add a playful touch to your bedroom or living room walls using polka dots. Choose a color that matches your style whether that's purple, gold or blue.
Wrapping Up
Whether you're looking to decorate an entire room or simply add accents to your space, choose decor pieces that resonate with you. You'll be surprised that something as simple as a personalized home decor can transform a space.